5W Waterproof Garden Light
1.045.000 VNĐ
Wattage: 5W

Beam angle: 30D

Dimension: 45*90 mm

Color: Black

Material: Aluminium Alloy

Power supply: 24DVC

CCT: 3000K/ 4000K

CRI: >90

IP: 67

Average lifetime: >25000h

Driver: On-Off
Product Description
1. 5W waterproof garden light
5W waterproof garden light, also known as garden lawn light, is a product that receives a lot of attention from customers who want to own an outdoor space with artistic lighting. This is a specialized device for lighting ornamental plants, outdoor miniatures, creating effects for lawns. Thereby helping to make the exterior space more luxurious, the garden view shimmering and creating a good visual effect.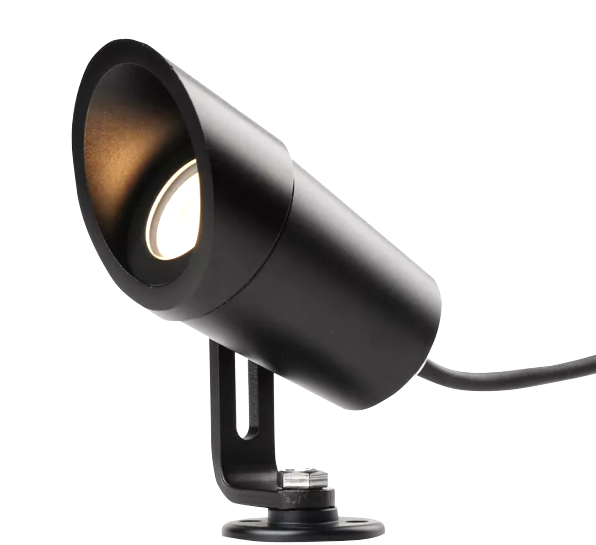 Lumi's 5w waterproof garden light is durable, specifically designed to withstand outdoor rain and wind, maintaining the maximum life of the lamp. Besides, with a minimalist and modern design, the waterproof 5w spotlight is suitable for all design styles for outdoor spaces.

2. Applications of 5W waterproof garden light
Spotlights create a light source that focuses on the decorative area that needs to be highlighted. Thanks to the easy installation, this type of lamp is commonly used in decorative garden lighting systems to enhance the miniatures and create accents for the space.
In residential buildings with private garden space, lawn lights are often preferred because of their high applicability and are easily suitable for lighting many locations in the garden. Homeowners can arrange lights in the garden to illuminate tall trees, small bushes and decorative objects in the space. Since then, the 5w waterproof garden light helps to significantly increase the aesthetic value of the exterior space.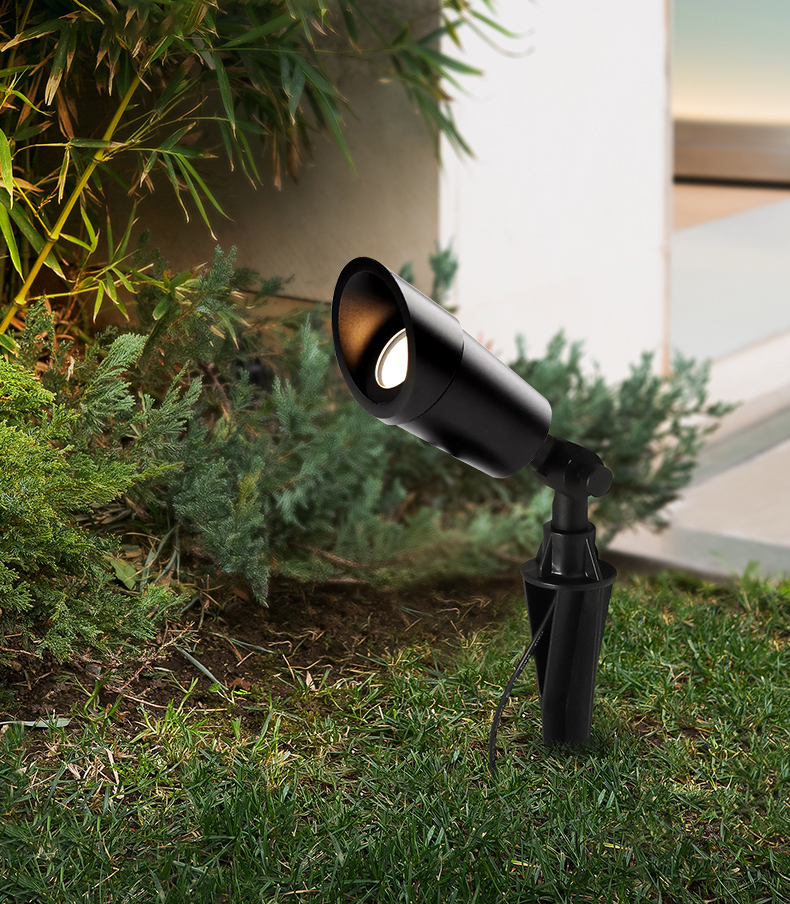 Besides the indoor garden area, you can see them in parks, walkways, resorts, etc. Not only enhance the aesthetic value, the lights also bring a livable space with garden beauty, convenient for commuting at night.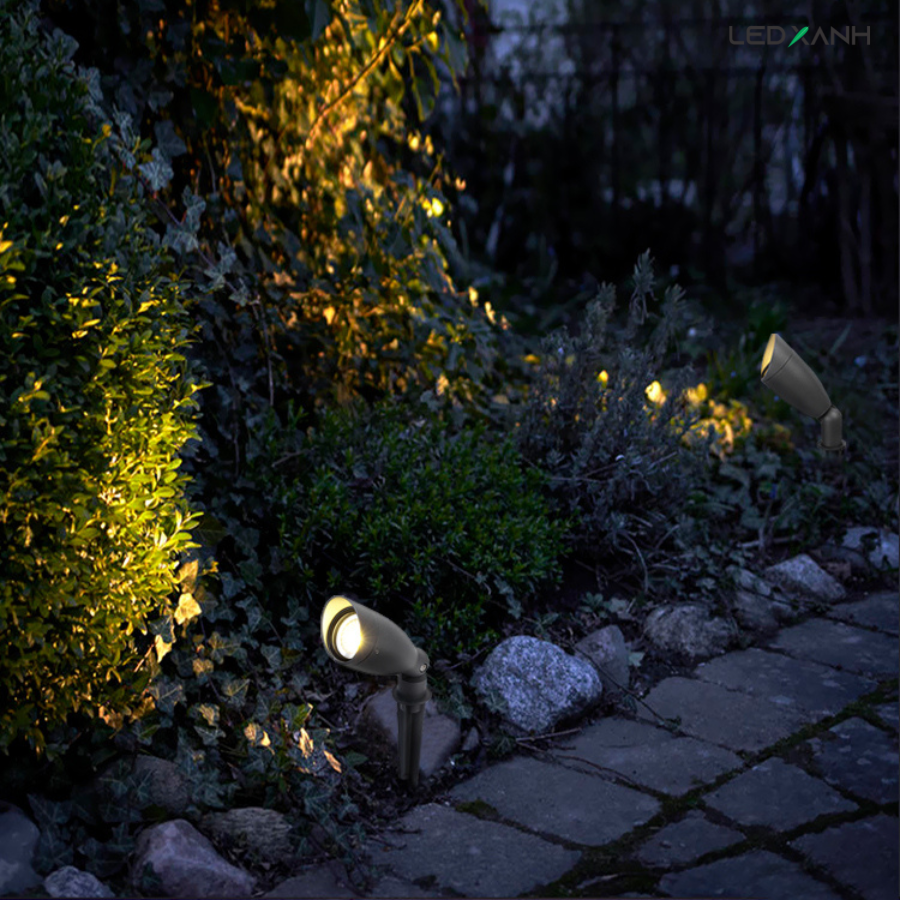 It can be seen that the outdoor space with the support of light from the tree lights will create good visual effects, increase the aesthetic value, and clearly show the artistic intention of the owner for every detail such as plants or outdoor decorations.
3. Advantages of 5W waterproof garden light
High aesthetics: Compact, modern design with characteristic black color, easily suitable for any position in the garden space; Comes with a light stand that makes it easy to adjust the height of the light for lighting purposes for each certain position

Water resistance, good dust resistance: IP67 water and dust resistance index, making the light durable, suitable for use in areas that are often wet and dusty such as garden spaces, outdoor spaces

High light quality, eye protection: Modern LED chips with high color rendering index CRI>90 and 4000K color temperature helps the light become honest, sharp, and creates good lighting effects in the garden space while giving your eyes a soothing experience with optimally diffused light

High-quality materials: The light is made from high-class aluminum alloy to help the light dissipate heat quickly, not rust and suitable for the harsh weather of Vietnam.

Safe to use: The light emitted is safe for users, environmentally friendly because it does not contain harmful substances and infrared rays.

Quick and easy installation
Above is the detailed information about the 5w waterproof garden light. If you are looking to own a living space with unique and light accents, immediately contact the hotline number (+84) 90 466 5965 for detailed support and advice.