10W Surface Linear Spotlight
935.000 VNĐ
Wattage: 5*2W

Beam angle: 24D

Dimension: 137*34*54mm

Color: White

Reflector color: Black

Material: Aluminium Alloy

LED Chip: Bridgelux

CCT: 3000K/ 4000K

CRI: 97

IP: 20

Driver: On-Off

Average lifetime: >25000h

Voltage: 220- 240VAC
Product Description
"Showing off" both the illuminating light and the light design, the surface linear spotlight is a push for you to create a double visual impression when admiring your familiar home. Are you looking for a truly novelty spotlight solution, surface linear spotlight will be the solution to satisfy your needs. Discover a light product with a modern twist to "update" the aesthetic of your living space!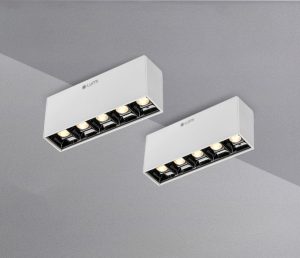 1. Features of 10W surface linear spotlight
Surface linear spotlight consists of small spotlights in the same rectangular light box.

When installed on the ceiling, this line of lights can "show off" the whole light design while still emphasizing the sharp spotlight, highlighting the space.

This is the scoring feature for this line of lights when chosen by homeowners to bring a new look to the living space.
2. Advantages of 10W surface linear spotlight
Environmentally friendly: LEDs do not contain mercury and emit less heat than fluorescent and incandescent lights, thus limiting many negative impacts on the surrounding environment.
Durability: durable aluminum alloy material with a lifespan of over 25000 hours
High aesthetics: delicate recessed luminaires provide light and make an impression with a rectangular box body design floating on the ceiling
Focused light: the 24D projection angle helps this light not only provide light for living spaces but also help highlight illuminated objects such as wall paintings, sculptures, and display cabinets,…
Safe for eyes: LED lights do not emit ultraviolet or infrared rays, so they are not harmful to eyes
True color reproduction: with a high color rendering index (CRI) of 97, the lamp provides quality light and reproduces the colors of objects in the most realistic way.
3. Applications of 10W surface linear spotlight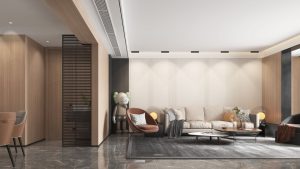 Surface linear spotlight is the optimal choice for residential space with the intention of "refreshing" for modern interior corners. Living room, kitchen or bedroom can all be installed with this type of light. Surface linear spotlights perform well in both functions: providing light and decoration. Therefore, users can install these lights in locations where task lighting is needed, or ceiling areas in open spaces to create more accents. Besides, the surface linear spotlight can also be used to increase the impression of important areas such as the tea table, TV, piano, kitchen table, etc.
Restaurants, hotels, and commercial centers are also suitable places for lighting with surface linear spotlight. This will be the highlight of light that attracts all the attention of customers and creates depth for spaces that promote this luxury and class.
Where should the surface linear spotlight be installed for maximum effect? Is it easy to install this light? There will be many questions asked when you start planning to upgrade your living space, shop or resort. Lighting experts from Lumi will answer these questions and help you create an emotional space with optimal lighting. Contact us now for a free consultation and own your own "light kingdom"!