9W Waterproof Recessed Spotlight
1.100.000 VNĐ
Wattage: 9W

Beam angle: 24D

Dimension: 90*92mm

Cut out hole: 75mm

Color: White

Reflector color: Black

Material: Aluminium Alloy

LED Chip: Luminus

CCT: 3000K/ 4000K

CRI: 97

IP: 65

Driver: On-Off/ Smart dimmable

Average lifetime: >25000h

Voltage: 220- 240VAC
Product Description
1. 9W waterproof recessed spotlight
9W waterproof recessed spotlight is a decorative spotlight product, specifically designed, suitable for even areas with high humidity.
In general, a light is a lighting device characterized by a narrow beam of concentrated light. In addition to being suitable for specialized lighting cases, spotlights are used a lot in places where spot lighting is needed for outstanding lighting, helping to highlight objects as desired by the lighting designer.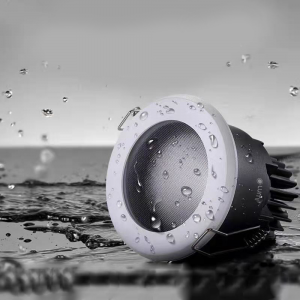 Along with the specialized waterproof feature, Lumi's 9W waterproof recessed spotlight is dedicated to creating accents for areas that are frequently exposed to steam such as bathrooms, balconies, saunas, etc.
2. Applications of 9W waterproof recessed spotlight
With the perfect IP65 moisture, steam and dustproof standard, the waterproof recessed spotlight can increase the ability to install lighting in a variety of spaces and architectural works. Parallel to the Spotlight line of lights for common areas, Waterproof recessed Spotlights are often arranged specifically to illuminate places that require high moisture resistance.
For residential projects, waterproof recessed spotlights are often chosen for areas such as bathrooms, corridors, and balconies. As a result, both meet the needs of beautiful and aesthetic lighting, create accents, and meet the requirements of water-proof and moisture-proof, maintain the life of the lamp and be safe for the family.
Besides, this type of light is also popular in resorts, hotels, or projects with spas, beauty salons, saunas.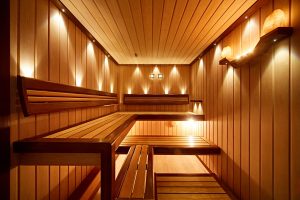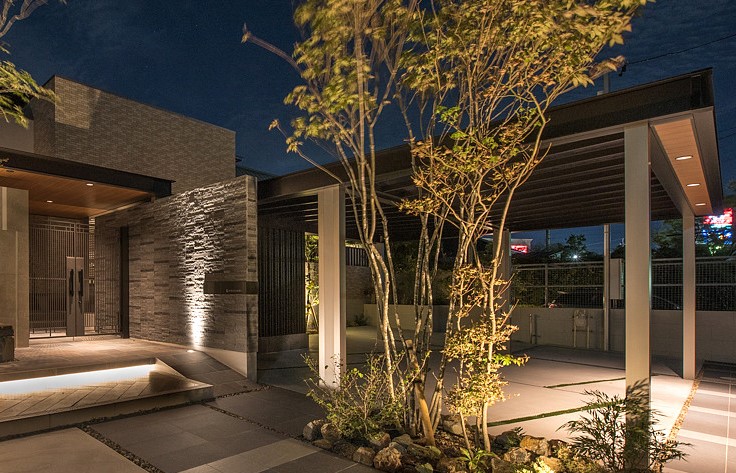 As can be seen, the space of the balcony and garden when supported by light from the spotlight will create a good visual effect, increase the aesthetic value, and clearly show the artistic intention of the owner for each individual project detail.
In particular, depending on the needs of the user, the 9w waterproof recessed spotlight can go far beyond the normal lighting on/off feature. Specifically, when integrated with Lumi's driver, the light will be upgraded to a smart light, capable of connecting directly with the Lumi smart home ecosystem. As a result, users can freely adjust the light brightness depending on the time and purpose of use of the day. At the same time, with smart lighting features, homeowners can also design their own lighting scenarios for each time, each space and control on/off via the Lumi Life app and voice commands.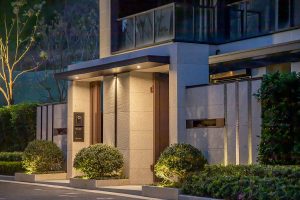 3. Advantages of 9W waterproof recessed spotlight
High aesthetics: Compact, simple design, modern but delicate and unique with compact size, using a combination of two basic white – black colors to create a harmonious overall for the light, suitable for any project

Good water resistance, dust resistance: IP65 waterproof index, high durability, can be used in wet environments, dustproof, soft light, thereby ensuring safety for users and improving service life of the light

Designed specifically for areas requiring high moisture resistance, waterproofing

Eye protection: The application of advanced LED modern lighting technology gives your eyes a soothing experience with optimally diffused light.

High quality of light: Modern Luminus LED chip with lighting efficiency, high color rendering index CRI: 97 and 4000K color temperature helps light become realistic and sharp

Integrate to become a smart light: Depending on the needs of the user, the light can be integrated with the Lumi driver to upgrade to a smart light, fully meeting the usual smart lighting features.

Easy and fast installation with the whole lighting system in just 1 day
Above are detailed information about 9w waterproof recessed spotlights. If you are looking to own a living space with unique and light accents, immediately contact the hotline number (+84) 90 466 5965 for detailed support and advice.