2*3W Spherical Outdoor Wall Light
726.000 VNĐ
Wattage: 2*3W

Beam angle: 24D
Dimension: 100*100*100mm

Color: Sand Black

Material: Aluminium Alloy

LED Chip: Bridgelux

CCT: 3000K/ 4000K

CRI: >90

IP: 65

Average lifetime: >25000h

Driver: On-Off

Voltage: 220- 240VAC
Product Description
1. 2*3W spherical outdoor wall light
Spherical outdoor wall lights are popular in lighting due to delicate and soft design, providing high lighting efficiency and helping to increase the aesthetics of the space. In particular, the light is prioritized for outdoor use because of its high IP65 water and dust resistance, allowing the light to work well in environments that are often exposed to rain, wind, and dust.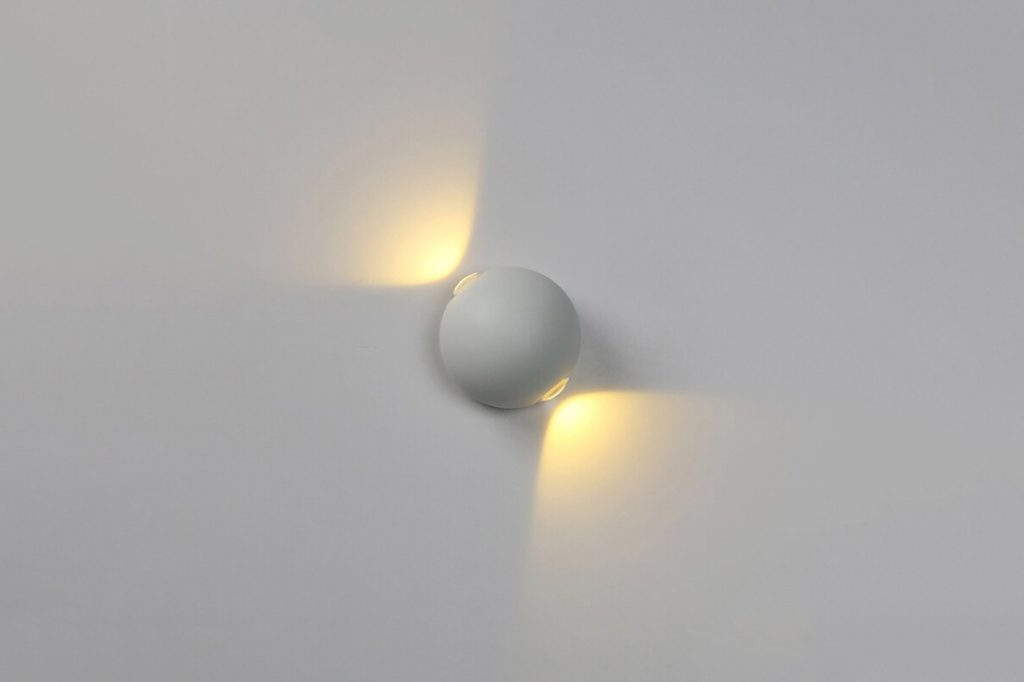 With the ability to illuminate from 2 sides, the light brings a unique visual effect to the lighting area, attracting the attention of viewers. The lamp body is designed in a delicate white color, so it is suitable for many types of spaces, both indoors and outdoors.

2. Applications of 2*3w spherical outdoor wall light
For residential buildings, spherical outdoor wall lights are often found in outdoor areas such as balconies, gates, and gardens. Not only has the effect of illuminating the necessary area at night, the light is also a necessary decoration to create accents for the outdoor space, giving an impression to guests coming. Besides, the light is also selected for interior spaces such as living rooms, corridors, depending on the aesthetic lighting needs of the homeowner.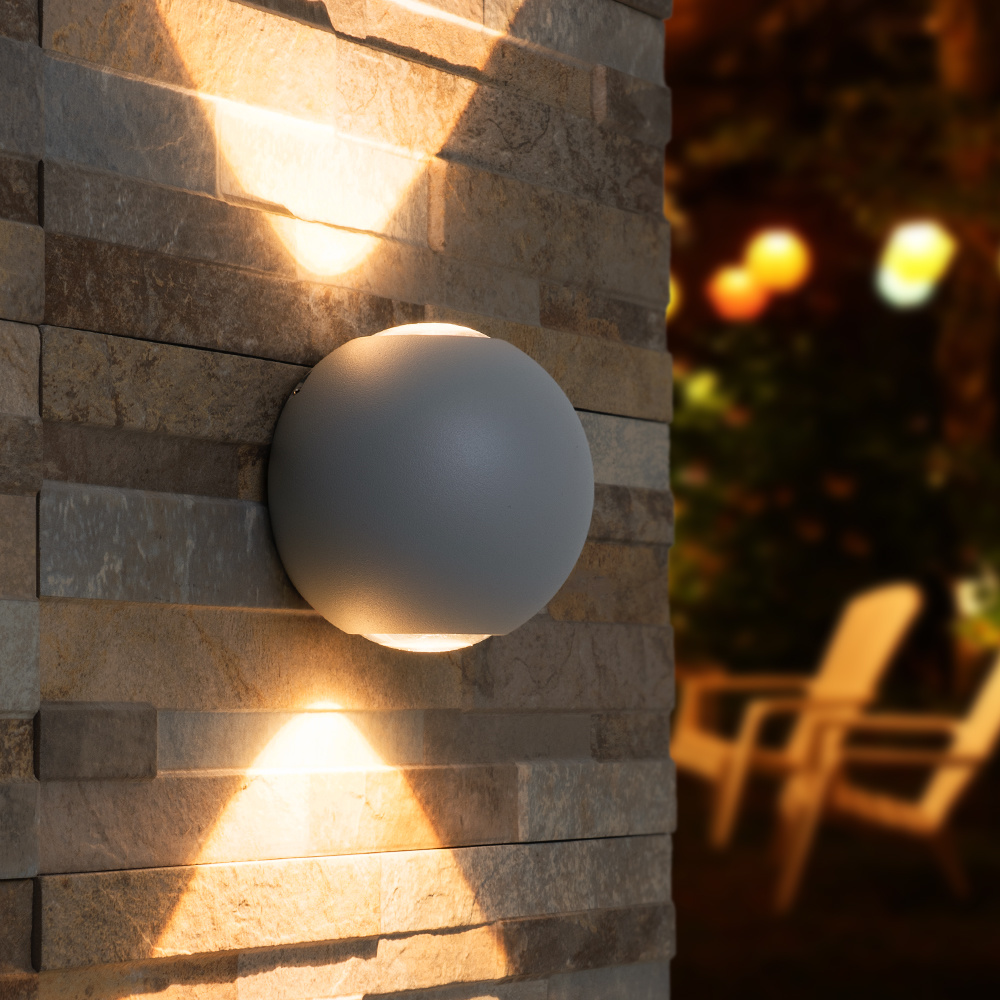 With the sophisticated, compact design and high artistic lighting ability, besides residential space, outdoor wall lights are also popular in public works that need high aesthetics such as parks, museums, or resorts, hotels. The aesthetic lighting ability highlights the artistic details and decorative areas in the space, thereby creating a certain emotion for the guests.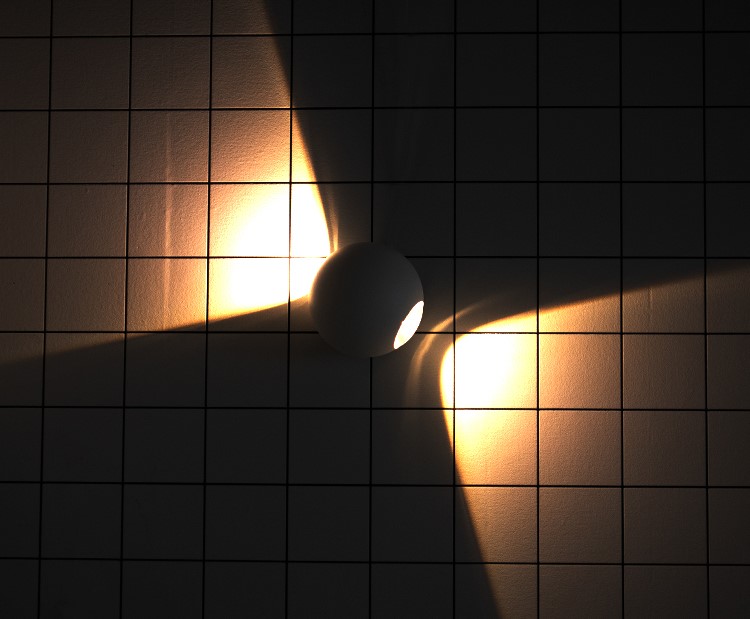 Outdoor wall lights help create good visual effects, increase the aesthetics of space thanks to the high color rendering index CRI > 90, combined with 4000K color temperature to help light become realistic, sharp, perfect and protect the eyes. The light body also is meticulously manufactured from die-cast aluminum to help resist water, ensuring that the light works well outdoors and maintains the maximum life of the light.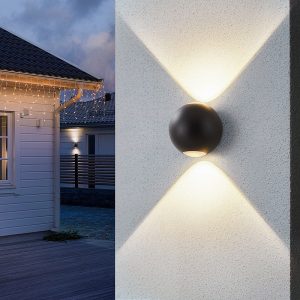 3. Advantages of 2*3w spherical outdoor wall light

High aesthetics: Compact, simple design, modern but delicate and unique, suitable for any outdoor space
Durable, long life: The light housing is made of high-class aluminum alloy, which is resistant to corrosion, oxidation and good heat dissipation, making the product able to withstand harsh weather. In particular, the light has a lifespan of more than 25,000 hours with the number of times on/off more than 60,000 times.
Suitable for all interior styles: Due to its small and simple design, the light can match most interior styles from modern, contemporary, to neoclassical and classical
Good water resistance, dust resistance: IP65 water and dust resistance index, high durability, can be used in wet environments, dustproof, soft light, thereby ensuring safety for users and lifting long life of light
Eye protection: The application of advanced LED modern lighting technology gives your eyes a soothing experience with optimally diffused light.
High quality of light: Modern Bridgelux LED chip with high color rendering index CRI>90 and 4000K color temperature helps light become realistic and sharp
Easy to install outdoor space decoration application
If you are looking for the latest and most impressive lighting designs for your living space, please leave your information or contact the Lumi Lighting hotline (+84) 904 665 965 to receive advice from projection experts.